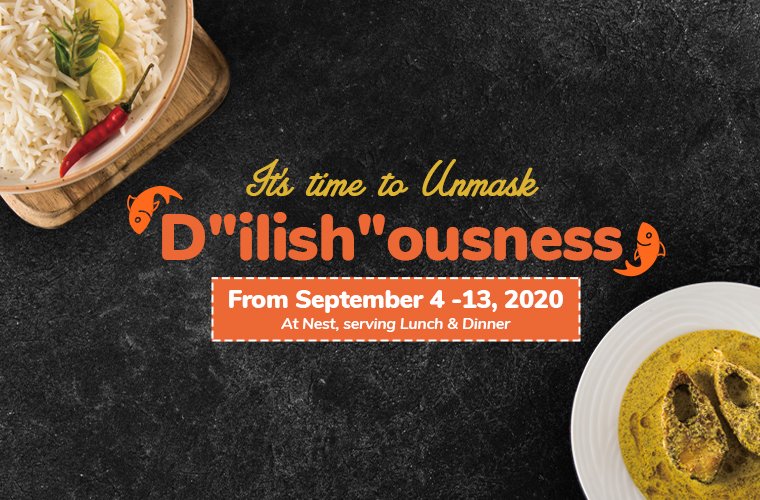 The monsoon season has begun in Kolkata, and the air is imbued with the aromatic fragrance of the Hilsa Fish delicacies. Why is it that this fish is particularly devoured during the monsoons? It's because during this time the fish is tastier than ever. Distinguishable because of its unique flavor, the taste of this fish is incomparable with anything that you might have eaten. Prepared in numerous ways, the traditional Hilsa fish preparations are sure to satiate your palate. Howard Johnson Kolkata presents you with an array of Hilsa Fish delicacies to delve into. Come and Unmask D"ilish"ousness with the season's offerings at Nest, the Best Hilsa Fish Festival in Kolkata. Here's a pick of our top 3 recommendations.
1. Doi Illish
Marinated in curd, spiced with green chilies, and flavored with mustard paste this dish defines delicious food. Best complemented with steamed white rice this dish you will not be able to stop at one serve.
2. Illish Bhappa
Steamed and softened the infusion of flavors in this dish makes it impossible to resist. Bite into it and appreciate all the good things in life. You wouldn't have eaten anything better than this.
3. Illish Begun Tel Jhal
Succulent fish when paired with eggplant gives a delightful taste. This combination completes a meal with no room for complaint on the contrary one might over-eat.
The Hilsa Fish Festival Menu
After all, this information about Hilsa fish, don't you feel like trying it? Fulfill all your cravings with the dishes that are served in Nest. You can enjoy these lip-smacking Hilsa fish delicacies till the 13th of September.
Try it while you still can because eating these delicacies isn't an experience that you should miss out on. Come, join us and Unmask D''ilish''ousness at Nest, the best Hilsa Fish Festival in Kolkata.