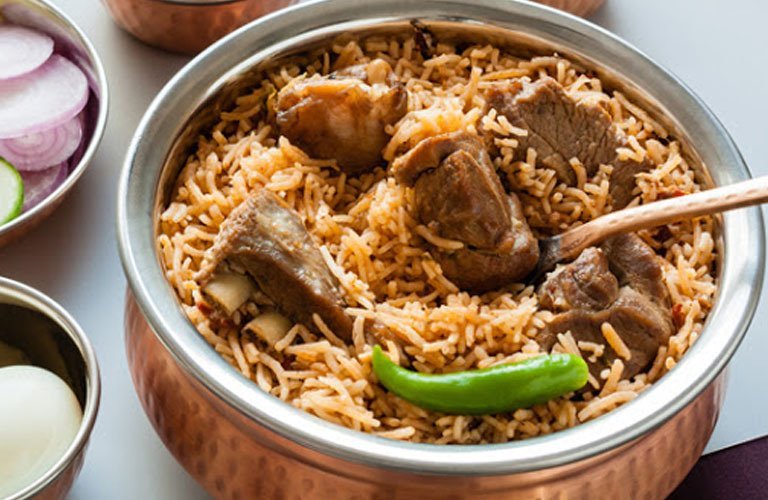 Eid is fast approaching and the crescent-shaped moon is going to grace the sky with its presence. Devotees reverently offer prayers and children eagerly anticipate the festivities. But there's one source of interest that's common among the old and young alike. What's that? It's the decadent Mutton Biryani that's going make the air fragrant with its aromatic fumes. Hence, we at Howard Johnson couldn't let this one pass by. From within the confines of our kitchen, our expert chefs present this delightfully easy recipe of Mutton Biryani to make your Eid an unforgettable one.
Prepare Mutton Biryani, the Easy Way
Ingredients
| | |
| --- | --- |
| Mutton 500 Grams | Basmati Rice 1.5 Cups |
| Coriander Leaves A handful | Mint Leaves A few |
| Onions Sliced 3 Large | Tomatoes Chopped 2 |
| Garam Masala 1 teaspoon | Cardamom 3 |
| Bay Leaves 2 | Cinnamon 3 |
| Cloves 5 | Red Chilli Powder 1 Tablespoon |
| Kesar Powder 1/2 Teaspoon | Curd 1/2 Cup |
| Salt As per taste | Lemon Few drops |
| Ginger garlic paste 1/4th cup | Oil 4 tablespoon |
| Green Chillies 3 chopped | |
Mutton Biryani- Method of Preparation
Take a cooker, and heat 4 tablespoons of oil in it. Add cinnamon, cloves, bay leaves, and cardamom to the heated oil.
Add chopped onions and saute till it acquires a golden brown color.
Season it with one tablespoon of red chili powder.
Add 1/4th cup of ginger garlic paste to it.
To this add a handful of mint leaves, coriander leaves, and 3 chopped green chilies.
Add finely chopped tomatoes and cook until they soften.
To this mixture add the 500 grams of mutton and mix it well.
Sprinkle a few drops, a 1/2 cup of curd, and one glass of water and stir it well.
Powder the mixture with salt as per your taste.
To this add 1/2 teaspoon Garam Masala and 1/2 teaspoon Kesar powder.
Close the pressure cooker and leave it aflame until you hear 5 whistles.
Unlid the cooker, add 1.5 cups of water, and the soaked Basmati rice. Close the cooker.
Leave it on a high flame for 15 minutes. Open the lid, check and see if the water dried up.
Turn off the gas, and leave it on dum (used to describe cooking with steam) for 30 minutes.
Serve it hot.
The month of fasting has come to an end and the prayers are in the process of being accepted. Make the festival happier by gathering your loved and preparing this delectable Biryani to satiate their appetite.