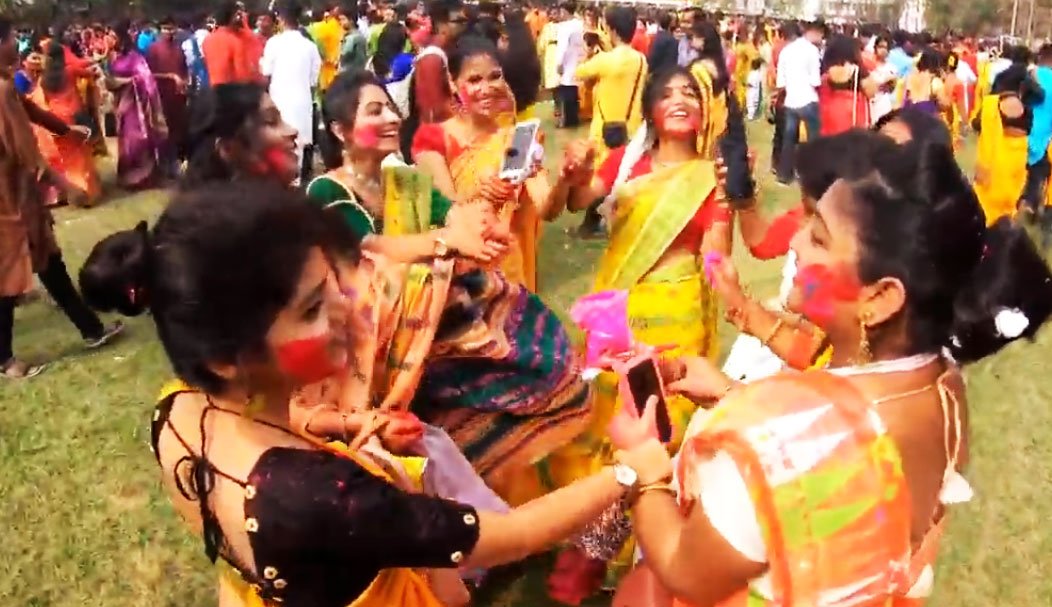 Spring is that time of the year when colorful flowers blossom. And subconsciously, one fervently hopes for a new beginning in life. Therefore, it's an opportune time to carefully think through aspirations. What does your soul seek? Is it contentment in the personal front? Or is it a career advancement? Your heart's deepest desire might just turn into a reality. Every state has its own ways of welcoming Spring. In West Bengal, Rabindranath Tagore began the tradition of 'Basanta Utsav' at  Santiniketan. And since then this practice has lived on, except for sadly this year 2020, as Visva Bharati University has cancelled the"Basanta Utsav''slated to be held on March 9 this year. This is in the wake of a letter by Union HRD Ministry advising against any large gathering in the campus in the wake of the coronavirus scare.

This, doesn't in any way lessen or dampen the profound significance of Basanta Utsav's cultural importance. Read along to find out more on why it remain's one of West Bengal's most-loved celebrations every year.
Basanta Utsav – The Celebrations
The celebrations take place on the day of Holi but the festivities begin a day prior. The herald of Spring commences with devotees dutifully offering prayers and bringing Santinekatan to life with a beautifully choreographed Baitalik performance. All these proceedings take place in an open ground that's called Gour Prangan which is in front of the University premises.
On the following day, the celebration commences with yet another Baitalik performance. This is a thoroughly delightful spectacle that mesmerizes viewers. The students of the University perform rhythmic movements that are perfectly synchronized with the melodies of Rabindra Sangeeth. Everyone is clad in shades of yellow to mirror the positivity that's brimming within them. And the ladies adorn their hair with Palash flowers for its religious importance. Wouldn't you want to up your level of optimism? Participating in these festivities might just help.
Basanta Utsav – That Splash of Holi Color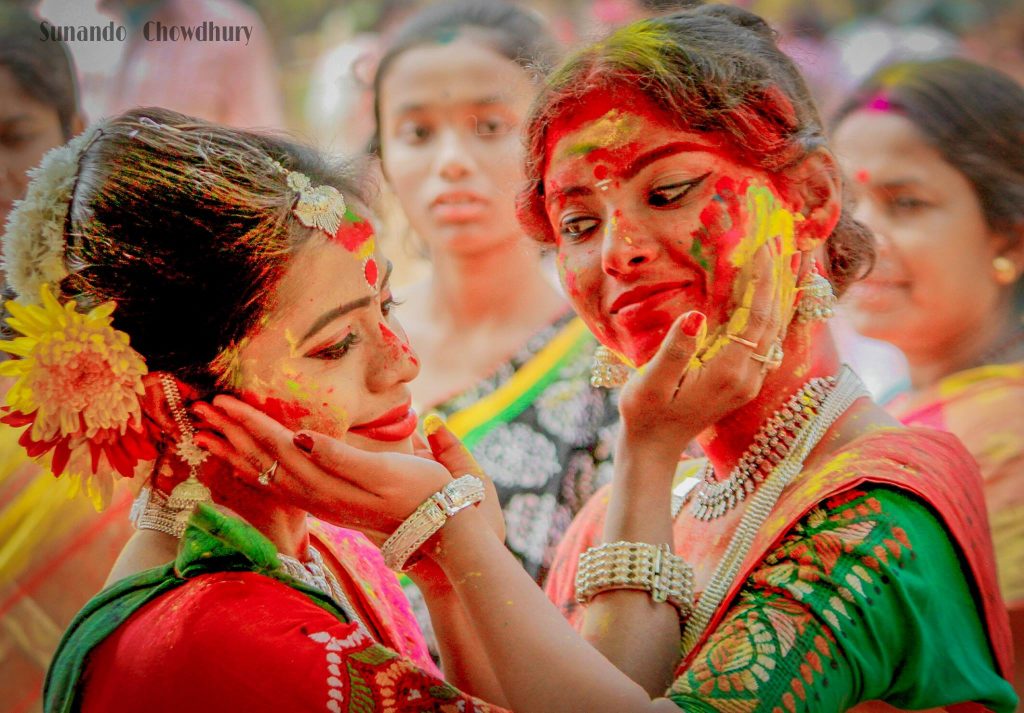 Post these performances the joyousness is taken to the next level with color smearing (its called aabir khela.) Spring is loved for that splash of color, hence its only fitting to celebrate Basanta Utsava with this activity. Flower petals are crushed to give those finely ground particles of powder (called Gulaal) which is smeared on near and dear ones.
The thump of drum beats reverberates in the air and friends huddle up in groups and dance to the beat of Rabindra Sangeeth. Apart from that, Baul singers hum songs to the resonance of the 'ektara,' a single-stringed instrument. And the students put together a cultural extravaganza of sorts with their performances. Happiness imbues the air, and it's impossible for one to stop smiling. On attending this festival, you are sure to make a memory that you are going to cherish for a long time.
Basanta Utsava – Reaching there
The festival is usually scheduled during the traditional Holi celebrations. One can reach Santinikatan – it is a 3.5-hour drive from Howard Johnson Kolkata.
Isn't this festival reason enough to plan that trip? Spring is here, come along and embrace it with open arms. After all, it holds the promise of tomorrow. You can turn this 'Celebration of Spring' into a mini-vacation by following it up with a trip to Kolkata. And while in the city you can book yourself a 'Room of Joy' in Howard Johnson Kolkata. A direct booking with us avails 8 benefits you wouldn't want to miss out on.