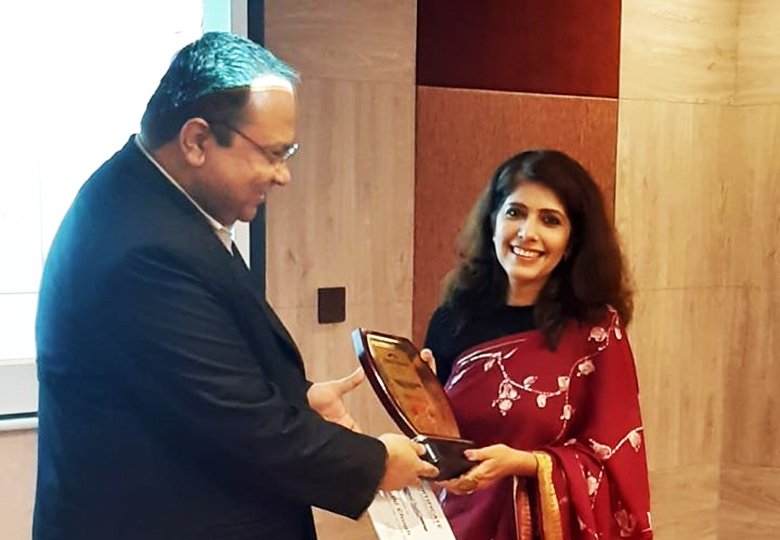 The Bodo Chef Contest 2019, Kolkata's biggest cooking competition, the premier edition of which was launched by Howard Johnson by Wyndham Kolkata in October 2019 was an overwhelmingly delightful exercise in getting to know the immense cooking talent the City of Joy harbours in its fold. Truly !
The competition saw 12 finalists whose brilliantly unique recipes were chosen being asked to cook them at the Howard Johnson Kolkata hotel kitchen. Eliminations over the weeks followed in terms of the dishes prepared and presented, ultimately giving Kolkata its three winners – Tumpa Roy- 1st Runner Up, Chandrama Majumdar – 2nd Runner Up and Vidhi Chugh, the Bodo Chef Title winner for 2019-20.
A quick
tête-à-tête with Vidhi Chugh, the Bodo Chef Title winner for 2019-20.
HoJo : For us and the many who have diligently followed your progress till the finals through our Social Media channels, could you please share your background and realising your own passion for cooking?
Vidhi :Well, I work as a shadow teacher for children with special needs, especially autistic, in Kolkata. It has transformed me as a person, made me more sensitive to the needs and care of such children. I believe in passion, dedication and devotional ways of handling things, and needless to say, I believe in creating my own destiny through hardwork, diligence and earnestness.
As to how I got involved into cooking, does that even need to be said, every Indian housewife is a Home Chef, which comes to us as an inherited quality.😃 To be honest, while bringing up my kids took all my "me time" away from me, I have now decided to do what I like next best after teaching, Cooking ! I have been participating in a number of cook offs since my boys are now grown ups and independent. I make sure to participate and associate with only known initiatives. The last couple of years have been a roller-coaster ride, the highlight of which was participating in the Big Bazaar Kitchen Superstar competition- was fortunate to be amongst the 7 all India finalists who represented Eastern Zone. This year, again I was the runners up. There's no looking back now.
HoJo : How did you get to know about the Bodo Chef Contest 2019 ? What was it that drove you to participate ?
Vidhi : While I was casually strolling through my Facebook feed one day, I had come across the information regarding the contests and grabbed at the chance, sent my recipe and promptly forgot about it . Needless to say I was elated, surprised and a bundle of nerves when I got to know that I was one of the 12 shortlisted.
HoJo : How was the actual experience of cooking your favourite recipes at Howard Johnson Kolkata 's master kitchen ?
Vidhi : The Amateur Home Chefs Cooking Contest was one of the most productive I have ever experienced.The assistant chefs' hospitality and professionalism at the Howard Johnson Kitchen were exemplary. This one was the best run cooking competitions I've been in for a long long time, most genuine in all respects. My sincere thanks for organising this. It had been a fun challenge throughout.
Vidhi Chugh in Level 2 of the Bodo Chef Contest in the Howard Johnson Kolkata Kitchen
HoJo : The Howard Johnson brand is synonymous with Happiness for all who get to experience the brand. How was the HoJo experience for you ?
Vidhi : I'm eternally grateful for all the support, motivation and positive learning involved in the process. The tips given and highlighted to us by the Executive Chef of Howard Johnson Kolkata, Totan Sen was more than I could ask for. They were so insightful. Thank you for being patient and helping us improve. My sincere thanks to team HoJo Kolkata and their staff for all the support.
HoJo : Your message to all the aspiring amateur cooks in Kolkata who are looking forward to the Bodo Chef 2020 Contest in November 2020 ?
Vidhi : Thank you Howard Johnson Kolkata for fulfilling my dream and look forward for many more events and a lifelong association with you. In fact, nowhere has it been mentioned in the world that says that once a winner can not be a winner again 🙂 🙂 I shall come back for more with a bigger bang. Love you all loads.
Thank you Vidhi.
We can't wait to see what the future brings for you in your culinary journey.