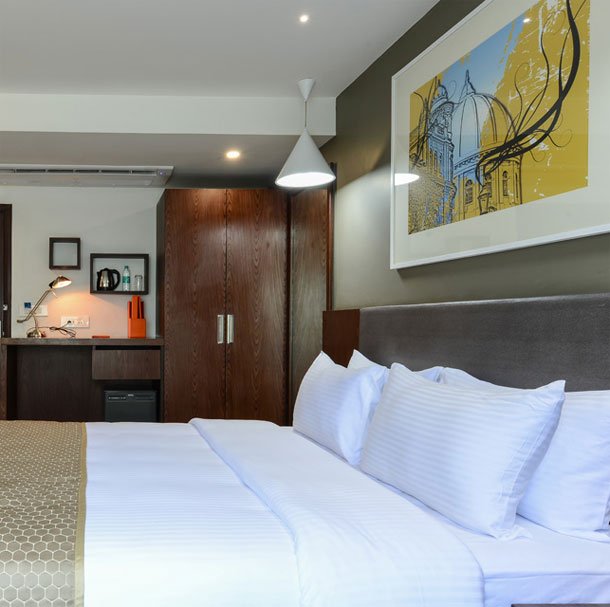 For Our Differently-abled Guests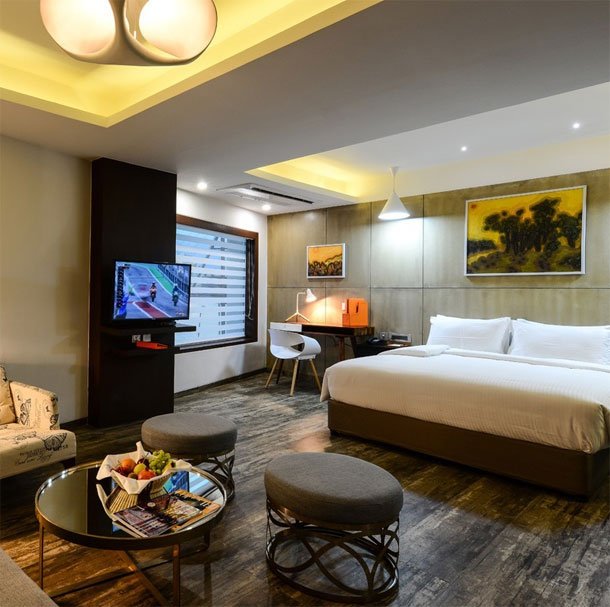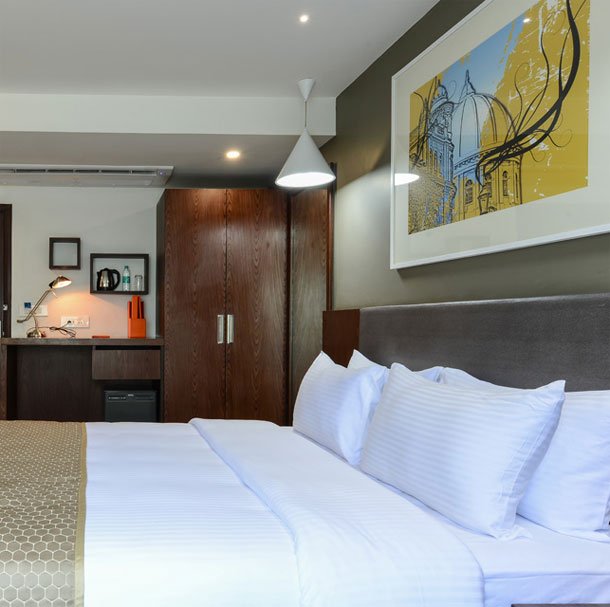 Amenities in this Room
Free WiFi
Coffee/Tea Maker
Flat Screen Televisions
Hairdryer
Cribs Available
High Rise Study Table
Iron Box
Mini bar
Premium Towel
Room Telephone
Here are some more reasons to come stay with us

My Stay at Howard Jhonson Recently I stayed at Howard Jhonson property in Kiolkatta. Itwas a pleasant experience. The staff were very helpful, place was well kept, good ambience, excellent food. Proximity to airport is another plus. A great place to stay.


Navigate37061450888
5/31/2019

MRS We have had a great time at HoJo. The staff have been so friendly, we needed to extend our stay and they gladly were able to accommodate us. We love all the guys and girls at the Nest. Keep up the good work.



Value for money I stayed for 02 nights in HOJO and would sum up my experience as a pleasant one if not exceptional. Property is good and is nearby to Airport and IT Hub. While FOE's are helpful they can exude more warmth which is paramount for hotel industry. Mr. Artitra Sen, Duty Manager is genuinely a helpful and friendly guy. Rooms wherein we stayed were small however they were clean and well furnished, food quality was good and breakfast was well laid out. Overall, it was a stay which gave us the value for money without compromising on comfort.


Book Direct with Us and Get these 8 Exclusive & Fantastic Benefits
Let Us Help You Make that Direct Booking
With every single booking directly made with us, here are our 8 exclusive & fantastic value additions you get for your stay.
This is over and above the fabulous dining offers that is on at the best hotel near Kolkata airport, and not available anywhere else.
8 Benefits as you Book Direct with Us
Free Sandwich & Welcome Drink
The Lowest Price Guarantee
1 FREE MEAL over and above Breakfast OR One-way Airport Transportation
The Most Flexible Cancellation Terms – You can cancel directly with us up to 24 hours prior to arrival without penalty charges, except for all advanced purchase rates and prepayment rates.
No Hidden Costs, Booking or Service Fees – Many travel sites charge extra fees for bookings; we do not.
Easy to Make Changes to your Reservation – Contact us directly if you want to make changes to your reservation to ensure changes are made accurately.
Priority Consideration for Room Requests – Talk to us directly to receive the legendary HoJo experience.
Knowledgable & Dedicated Reservation Specialists – Our professional Reservations team will provide you with a personalised service and ensure we take care of you. If you have any questions, we are ready to assist you immediately.
Use This to Book Direct. Let us take care of the Rest.
Specially designed & equipped for a Joyful Stay
The Howard Johnson by Wyndham Kolkata has a specially designed room for our guests with limited accessibility, which is situated right next to the elevator on the 1st floor. The furnishings and the amenities of our disabled-friendly room is of Deluxe Room standards, but laid out in a way to give maximum space and maneuverability around the fixtures and furnishings. Be it accessibility ( as the best hotel near Kolkata airport), world-class hospitality & comfort or value for money, Howard Johnson Kolkata offers the best of both worlds.
The wooden flooring aids in the extra traction for wheel-chair movement inside the room. The doorways are extra-wide , the bathroom is easily wheel-in, and there are grab rails in the bath area for support and aiding in mobility.
Maximum Guests : 2 Adults + 2 Children
Area : 240 sq.ft
Reservations Assistance : +91 033 6655 7000