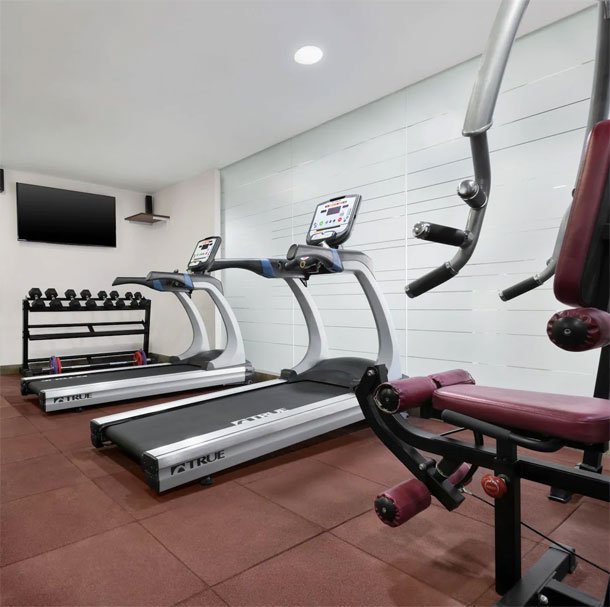 A Wellness Regimen on your Own Terms
At Howard Johnson by Wyndham Kolkata, we firmly believe that each of our guests should be able to choose their fitness routines or wellness regimen on their own terms.
The very reason why we have conceptualised our Fitness Center ensuring its well-designed, thoughtful space helps transform and rejuvenate.
| | |
| --- | --- |
| Location | 7th Floor |
| Accessibility | Registered Guests only |
| Timings | 6.00 am – 9.00 pm |
| Personal Trainer | On Request |
| Yoga Sessions | On Request |
| Fitness Diet Plan Requirement | Please contact Front Desk |
Here is what puts a smile on our faces as you stay with us

Excellent for solo stay I found it excellent and safe for solo stay
Food and hospitality is very good
Staff is very helpful especially at the reception and restaurant. Thanks a lot to Ms Sanchari and her colleagues for their help.



Good hotel Very good service. Good food at the restaurant. Very clean and nice room. The best part is that the room has all the toiletries that one would need. The only disappointment was my flight was late and there was no transportation at the airport to pick me up even though I requested one. I waited for a long time and then had to find a pre-paid booth at the airport to get a taxi.



Appreciation Team at hojo is amazing.... especially staff like Souvik/Suvankar/Arijit/Ajit/Debarnab/Samina/Washi Ahmad are so polite, courteous humble and approachable.
I really want hojo to appreciate your staff mentioned above...keep the good work guys..you are the true ambassador of hojo...it was pleasure staying in hojo and will come back to hojo whenever I get an opportunity.


TejeshDongare1990
5/19/2019